Decanter Brewers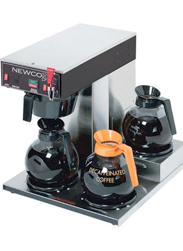 The decanter brewer is the traditional coffee brewing system. It is easy to use and easy to clean. Able to brew multiple cups at one time, it is good for a high traffic environment and is a highly economic choice.
Picured is the 3-Burner model family: a sleek, compact brewer, loaded with advanced brewing features and ready to accommodate the wide variety of brew vessels offered by Newco.
Incorporating "brew ready light" and 'brewing" indicators, the 3-Burner series provides valuable visual feedback to the user of the optimum brew temperature and a safety warning that the unit is brewing. A gravity faucet provides ample supply of hot water for teas, soups and other allied products, while engineered to be used during a brew cycle without affecting the pot of coffee being brewed. Add a PDS valve to ensure exact pot levels in the field, even under the most harsh and erratic water conditions.
Newco designed the 3-Burner series of brewers to satisfy customer requests for a mult-feature specific brewer suited for the office environment. The series is quite versatile and continues to be our top selling line.
3-Burner models incorporate unique design features that include: a water level detection system that eliminates evaporation short pots, an adjustable brew safety light whcih flashes during the brew cycle to alert the user the brew cycle is in process, and a gravity hot water facuet system which dipsenses hot water while brewing without altering the brew volume.
All the features are built into a stainless steel cabinet for long stability and durability.
| | |
| --- | --- |
| Dimensions | Height: 17.75 in. x Width: 8.5 in. x Depth: 18.9 in. |
| Weight | 27lbs. |
| Electrical | 120V ac |
| Carafe Capacity | 8 cups |
| Single or Multi Serve | Multi serve |