THE STARBUCKS INTERACTIVE BREWER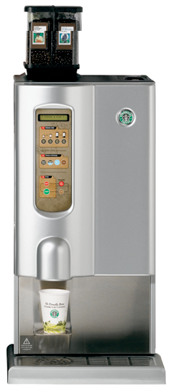 Now you can enjoy perfectly brewed Starbucks coffee and gourmet hot cocoa at the touch of a button, any time of the day.
The Starbucks Interactive Cup brewer is fully automatic, so there's no measuring, no grinding and no mess - just a consistently delicious cup of coffee or cocoa every time you brew.
Starbucks coffee blends House Blend, Decaf House Blend, French Roast, Breakfast Blend, Sumatra, Decaf Sumatra, Caffe Verona, Decaf Caffe Verona, Colombia, Cafe Estima Blend, and Shade Grown Mexico (when available).
Tazo teas Awake, Earl Grey, Tazo Chai, China Green Tips, Zen, Calm, Passion, Wild Sweet Orange, Green Ginger, and Envy.
Starbucks Gourmet Hot Cocoa
| | |
| --- | --- |
| Dimensions | Height: 42 in. x Width: 18 in. x Depth: 24 in. |
| Optional Cabinet Stand | Height: 27 in. x Width: 19 in. x Depth: 26 in. |
| Weight | 130lbs. empty |
| Electrical | 120V ac |
| Plumbing | 1/4" plumbed cold water |